April 21, 2013



20th April 2013 | International Solidarity Movement, Hebron, Occupied Palestine
By Team Khalil
Hashem Al-Azzeh, activist and resident of Tel Rumeida (a neighbourhood in Israeli-controlled H2 Hebron) was today attacked by Israeli settlers who broke into his brother's house and attempted to force their way through his garden.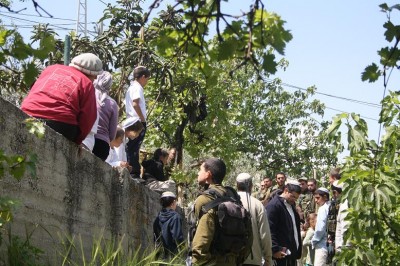 Hashem caught the settlers leaving the house at around 11am, and when he questioned them about their presence on his premises, they replied that God had given them this land, according to the Bible. Quickly several other settlers arrived on the scene and soon around 20 settlers, in addition to 20 settler children, occupied Hashem's front porch as well as the path leading up to it.
The settlers tried to force their way through Hashem's garden and backyard, but he managed to stand his ground and insisted that it is illegal for them to pass between the Palestinian houses. After approximately 20 minutes, around 10 soldiers arrived at the scene, after a nearby guard had previously been alerted by Hashem's children.
The soldiers, who had just been woken up, mostly merely stood around watching and seemed at a loss about what to do. They did not confront the trespassing settlers and did not tell them to leave and stop harassing Hasehm. However they stopped the two Palestinian workers who had been decorating the house from working and confiscated their ID cards. A Swiss journalist who arrived at the scene to document the incident was refused access and removed by the army despite presentation of his official press card. A German activist was also removed from the scene after being repeatedly insulted and pushed by settler children with the soldiers looking on.
After around 45 minutes, the settlers seemed to get bored of discussing with and insulting Hashem and international activists, and gradually returned to their homes in an illegal settlement which is located just above Hashem and his brother's houses. After they had left, the Israeli police arrived on the scene and asked Hashem some questions about the incident, however it is highly unlikely that there will be any legal consequences for the settlers who enjoy virtual impunity (http://www.un.org/apps/news/story.asp?NewsID=44412#.UXLrWKJIimg)
The police also registered the construction workers' details and said they needed a permit to continue working in the house. They will most likely be arrested if they attempt to return without a permit, which is next to impossible to obtain.The house that the settlers broke into belongs to Hashem's brother, who currently lives in another part of Hebron but plans to move back into his house the coming week. Hashem has been overseeing refurbishments during the last 10 days.
The settlers' attack is clearly an attempt to intimidate Hashem, his brother and their families and forms part of a long series of attacks and violence against Hashem. Over the past 15 years, Hashem's house has been invaded and turned upside down by settlers and soldiers several times, with furniture and equipment smashed. He has had bullets shot at and inside his house, narrowly missing him and his family. Hashem has been threatened, intimidated and beaten up by settlers, of which the scars on his face bear witness. His wife has suffered two miscarriages due to being beaten by settlers. His children are also regularly attacked, beaten up and have stones thrown at them. The fruit trees in his garden have been poisoned, and he has been prevented from harvesting his olives due to settler attacks.For an excellent report on settler violence across the West Bank, click here : http://www.thejerusalemfund.org/ht/a/GetDocumentAction/i/32678
Source